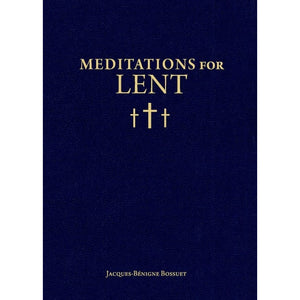 Meditations for Lent
Product Code: BK3661
Lent is hard, and it's so frustrating when we lose focus and surrender to our weaknesses time and time again. That's why all the great saints encouraged meditation as a sure-fire way to place yourself in God's presence and grow closer to Him. Through meditation, we take our eyes off ourselves, and we walk faithfully in the hands of God.
There is no better time to begin—or to renew—the habit of meditation than during the Season of Lent. If you want to combine the spiritual benefits of a holy Lent with the bountiful harvest that regular meditation brings, then your soul is crying for Meditations for Lent. These brief but powerful meditations are collected from the voluminous writings of 17th Century Bishop Jacques-Benigne Bossuet.
Bishop Bossuet is considered to be among the best homilists in the history of the Church, and his great piety and eloquent writings have been cherished by Catholics for hundreds of years. Now they're available to you in English, for the very first time! In these pages, Bishop Bossuet will take you on a stunning inner pilgrimage to an unforgettable encounter with Jesus' tender love for you as he freely gave His life for you on the Cross.
Each meditation is short, and it is a robust complement to the daily readings at Mass during the Lenten season. Read Meditations for Lent and you won't arrive at Easter Mass distracted, exhausted, and frazzled, having neglected your sacrifices and your ordinary prayers, too. Instead, you'll find yourself walking joyfully into church, ready and eager to adore the resurrected King.
And your soul will be what it should be: a fit dwelling place for the Redeemer.
224 pages. Leatherette.
---
We Also Recommend