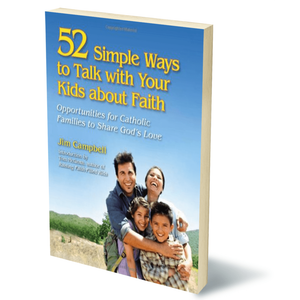 52 Simple Ways to Talk With Your Kids About Faith
Product Code: BK2892
Family life is full of "teachable moments"—occasions of hope and joy, worry and stress that provide excellent opportunities for children to learn about faith. These are times when spiritual questions arise naturally and meaningful conversations can flow if parents are prepared to talk about God with honest conviction.
Veteran religious educator James P. Campbell helps moms and dads turn these potentially awkward moments into grace-filled times when children learn lasting spiritual lessons. He identifies dozens of opportunities for faith sharing that come up in the course of normal family life, and for each he explains the spiritual issue involved and suggests ways that parents can start a meaningful conversation about it. Scriptural background is provided for each theme, as is the Catholic Church's view on each issue. Every chapter closes with Campbell's suggested opportunities for prayer.
Campbell's 52 Simple Ways to Talk with Your Kids about Faith equips Catholic parents to fulfill one of their most important responsibilities—that of shaping the spiritual and moral dimensions of their children's lives.
About the author:
Jim Campbell, father of two children and grandfather of six, is a religious educator and author. He is the general editor of the Harper's New American Bible Study Program and is the coauthor of the Finding God religious education program, published by Loyola Press. He has three post-graduate degrees, including masters degrees in theology and history, and a doctorate in Ministry in Christian Education from the Aquinas Institute of Theology. He is the staff theologian at Loyola Press.
Paperback

---
We Also Recommend