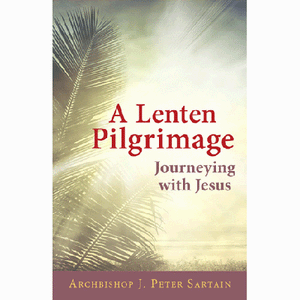 A Lenten Pilgrimage
Product Code: BK4039
"Lent reveals what's at stake."-Archbishop Sartain
For many Catholics, what's at stake might be what we "give up" for Lent. Most of us know there is more to it than that, but we struggle to give the season its proper meaning. As Archbishop J. Peter Sartain writes, "As I prayed the opening prayer at Mass for the First Sunday of Lent, I realized once again how much I have to learn."
Walk through the desert alongside Archbishop J. Peter Sartain, who, in his personal and pastoral style can help us make this Lent different - the Lent during which we do more than give up our favorite comfort foods and strive to give ourselves more deeply to the Lord. Through these brief reflections, which include the Archbishop's stories from his own life, we'll discover a Lent in which we learn:
How to surrender to God (even in our defeats)
How to tame our distractions and transform them into desire for God
How to cultivate peace in our homes and workplaces by reducing our emotional "footprint"
How to learn through Lenten observances such as fasting and abstinence that God is enough
This year may we grasp more fully what is at stake, truly prepare for the celebration of Christ's death and resurrection, and realize the transforming power of A Lenten Pilgrimage.
48 pages. Paperback.
---
We Also Recommend