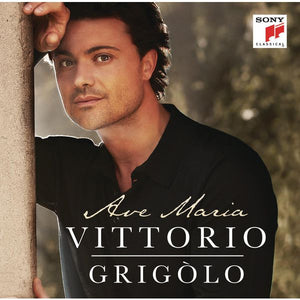 Ave Maria by Vittorio Grigolo
Product Code: CD1196
The album contains many sacred favorites,
such as Franck's Panis angelicus, Verdi's Ingemisco, Mozart's Ave verum
corpus and both Schubert's and Caccini's Ave Maria. It also includes
beautiful music composed specifically for the Sistine Chapel Choir
and has never before been recorded or performed outside the ensemble.
On Ave Maria, Vittorio is joined by his friend and former fellow Sistine
chorister Fabio Cerrone, conductor of the Orchestra Roma Sinfonietta,
and he teams up once more with the current youngsters of the choir.
"When I met the boys during the recording process, I felt for a moment as if I'd stepped back into my past,"
he says. "I feel Ave Maria is a tribute to all the incredible people who helped me as a boy, and to all the hours we
studied and practiced in those little rooms in the chapel. This album is a dream come true for me." Ave Maria
is available in a standard jewelcase version and as a deluxe digipak that includes a bonus track, more photos and
full lyrics.
List of Songs:
1. Ave Maria
Giovanni Maria Catena
2. Fermarono i cieli (antica melodia napoletana)
Giovanni Maria Catena
3. Maria, che dolce nome
Campetti
4. Panis Angelicus (from Mass, M. 61, Op. 12)
César Franck
5. Dolce cuor del mio Gesù
Gaetano Capocci
6. Ave Maria
Domenico Bartolucci
7. Ingemisco (from Messa da Requiem)
Giuseppe Verdi
8. Ave Maria
Giulio Caccini
9. O celeste Verginella
Giovanni Maria Catena
10. Ave verum Corpus, KV 618
Wolfgang Amadeus Mozart
11. Pietà, Signore!
Louis Abraham Niedermeyer
12. Ave Maria ("Ellens Gesang III", Op. 52/6, D 839 (Italian Version))
Franz Schubert
13. Voglio Chiamar Maria
Traditional
14. O bella mia speranza
Lorenzo Perosi
15. Exaudi Domine
Lorenzo Perosi
16. Serenata (Ständchen D 957/4)
Franz Schubert
17. Salve Regina
Gaetano Capocci
18. O Holy Night featuring Jackie Evancho – Adolphe Adam
---
We Also Recommend