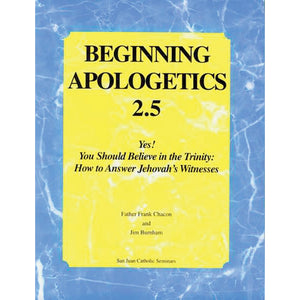 Beg. Apologetics 2.5: Jehovah's Witnesses Who Attack the Trinity
Product Code: BK2444
Yet another entry in our popular Beginning Apologetics series by Jim Burnham and father Frank Chacon, this volume deals with one of the doctrines at the center of our Faith, the Trinity.
This volume can be read in an evening and taken out and applied right away.
The next time you come up against a Jehovah's Witness or someone else who expresses doubt in the existence of the Trinity, be equipped and ready to defend the Faith!!
23 pages. Paperback.
---
We Also Recommend