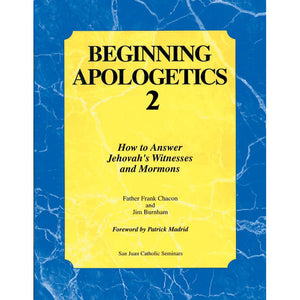 Beginning Apologetics 2: How to Answer Jehovah's Witnesses and Mormons
Product Code: BK2443
Throughout this country, non-Catholic religions are targeting Catholics with aggressive evangelizing campaigns. The Jehovah's Witnesses and the Mormons are among the most zealous of these groups. Thousands of Catholics have left the Church to join one of these two religions.
Most Catholics are at a loss when dealing with these door-to-door evangelizers. Catholics are usually unfamiliar with their strange and confusing beliefs, which puts them at a disadvantage. Catholics often terminate the dialogue in frustration because they can't effectively counter the arguments and claims of these groups.
The purpose of this booklet is to help Catholics identify and charitably refute the foundational doctrines of the Jehovah's Witnesses and Mormons. Instead of getting bogged down in unimportant side issues, the authors show you how to focus objectively on their main beliefs. The step-by-step approach uses Scripture, history, and common sense.
44 pages. Paperback.
---
We Also Recommend