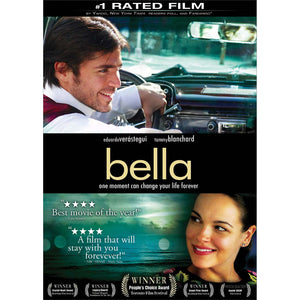 Bella
Product Code: DV1078
The acclaimed, award-winning theatrical hit that tells the moving and life-affirming story about a beautiful waitress in a New York City restaurant facing a crisis pregnancy and unemployment, and the loving support she receives from a kind man with a mysterious past seeking to heal deep wounds of his own. Charismatic actor Eduardo Verastegui and lovely Tammy Blanchard give powerful lead performances in this surprise winner of the coveted "People's Choice Award" at the prestigious Toronto Film Festival. Filled with many touching moments of human insight, family love, and humor, along with a wonderful music score, Bella is an inspiring film with an uplifting message that leaves a deep impact on its viewers. It belongs in every home.
Many Special Features, including "the making of" segment, interviews with director and film stars, film trailer, and much more!
This DVD contains the following language options: English with optional Spanish or English subtitles. This movie is rated PG-13 for thematic elements and brief disturbing images.
100 minutes.
---
We Also Recommend