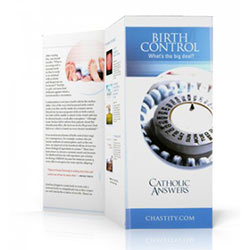 Birth Control: What's the Big Deal?
Product Code: BK3289
Many couples wonder why the Church seems "hung up" over the issue of contraception. As a result, some assert that the Church has no business in the bedroom and wonder what a bunch of celibate men could possibly know about enhancing marital bliss, If the Church allows the antiquated "rhythm method" to avoid pregnancy, the argument goes, then why not the Pill?

These are all legitimate questions, and they deserve serious consideration. The new Catholic Answers Chastity Tract, Birth Control: What's The Big Deal? will help you to answer these questions.
---
We Also Recommend