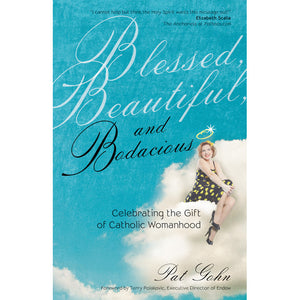 Blessed, Beautiful, and Bodacious
Product Code: BK2569
Pat Gohn draws on decades of women's ministry experience, her popular Catholic women's podcast Among Women, and her own story as a wife and mother, proclaiming the Church's compelling vision of every woman: you have dignity (blessed), you are gifted (beautiful), and you have a mission (bodacious).
The lively and unforgettable Gohn guides readers through moments of her life that have shaped her identity and understanding of womanhood—abiding love and talent for music, breast cancer in her thirties, and coming to understand true feminism in light of Church teaching and Mary's example. More than a mere memoir, Blessed, Beautiful, and Bodacious: Celebrating the Gift of Catholic Womanhood offers readers insight into the writings of Blessed John Paul II, which articulate four gifts unique to every woman: generosity, receptivity, sensitivity, and maternity. With humor, faith, and the open-hearted tone of a trusted mentor, Gohn shares how she became empowered to embrace her blessings, beauty, and bodaciousness, and how readers can do the same.
192 pages. Paperback.
---
We Also Recommend