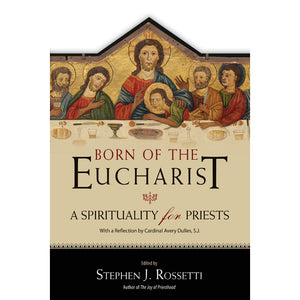 Born of the Eucharist: A Spirituality for Priests
Product Code: BK1970
Pope John Paul II once said that the priest is "above all, a man of the Eucharist." In the spirit of this statement, Msgr. Stephen Rossetti weaves together reflections on the Eucharist from over twenty notable contributors, including Cardinal Francis George, Archbishop Donald Wuerl, and the late Cardinal Avery Dulles. Moving personal narratives combine with timely and accessible spiritual reflections to make this book a must-read meditation on the importance of the Eucharist in the life of the priest, and that of the Church.
List of Contributors
Cardinal Timothy M. Dolan Cardinal Avery Dulles, S.J.
Rev. Peter Murphy
Rev. Kevin Walsh, O.C.S.O.
Rev. Msgr. John J. Strynkowski
Rev. Msgr. Stephen J. Rossetti
Cardinal Francis George, O.M.I.
Archbishop Donald W. Wuerl
Rev. Msgr. J. Wilfrid Parent
Most Rev. John B. McCormack
Rev. Anthony Oelrich
Rev. David L. Toups
Rev. Benedict J. Groeschel, C.F.R.
Rev. Timothy A. Butler, U.S.A.F.
Cardinal Carlo Maria Martini, S.J.
Most Rev. Victor B. Galeone
Rev. Stephen Wang
Rev. Kevin M. McDonough
Rev. Msgr. John Zenz
Rev. Daniel P. Coughlin
Rev. Msgr. Paul A. Lenz
Rev. Brendan Daly
Rev. Gabriel B. O'Donnell, O.P.
Rev. George E. Stuart
Cardinal Albert Vanhoye, S.J.
Rev. Edward J. Arsenault
Rev. Msgr. Peter J. Vaghi
192 pages. Paperback.
---
We Also Recommend