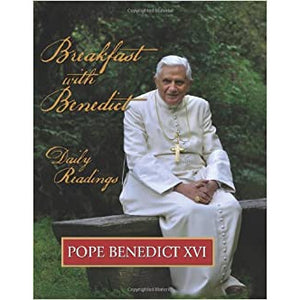 Breakfast with Benedict: Daily Readings
Product Code: BK2335
"Let us turn our gaze towards Christ. It is he who will make us free to love as he loves us, and to build a reconciled world." Pope Benedict XVI


Imagine starting every morning for five minutes with the Holy Father! How would your routine and daily preparation change based on these brief moments of inspiration, insight, and invitations to prayer?

Now, you can do exactly that with these five-minute reflections to center your heart and mind on Christ before the noise of each day begins. Excerpts from Pope Benedict XVI's homilies, speeches, documents, and writings will inspire, encourage, and challenge you to a greater devotion to Christ in everything you do. In the time it takes to sip a cup of coffee, you can gain the spiritual wisdom of one of the most prolific and respected Catholic theologians of our time and share in his efforts to build a new world.
128 pages. Hardcover.
---
We Also Recommend