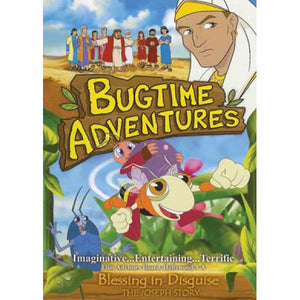 Bugtime Adventures: Blessing in Disguise - The Joseph Story
Product Code: DV1031
Children will see their favorite Sunday school stories through the eyes of America's newest bug friends in this animated series narrated by Willie Aames. DVDs include bonus games. Your child will enjoy these entertaining stories and along the way will learn about the value of forgiveness. Ages 6-10.
Joseph was sold into slavery by his own brothers and then spent years in jail for a crime he did commit. Through it all he kept his faith and eventually found himself in position of authority in Egypt. Joseph now holds power over his brothers and is faced with the choice of forgiveness or revenge!
Meanwhile, at the feet of the giants in the tiny bug-town of Bugglesville, Roderick the cockroach embarrasses Antoni the ant at the bug's annual picnic. Using one of his new inventions, Antoni seeks his revenge by setting up a slimy surprise attack that doesn't quite unfold as he had planned. Fullscreen.
Special Features:
-Puzzle Game
-Memory Game
-Pict-o-Word Game
-Draw a character
---
We Also Recommend