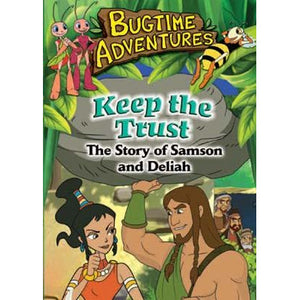 Bugtime Adventures: Keep the Trust - The Story of Samson and Delilah
Product Code: DV1098
The Story of Samson and Delilah
Samson is the Hebrew people's protector against their enemy, the Philistines, but no one knows the secret of his great strength. In a weak moment, Samson breaks his vow to God and tells his secret, then discovers he has lost his strength.
Meanwhile in Bugglesville, Gina confides in Antoni about her secret fear. When Antoni accidentally lets her secret slip out, the others start laughing at Gina. Gina is hurt and runs to hide. When Antoni realizes he has lost Gina's trust, he decides to make it up to her.
Narrated by Willie Aames, former "Bibleman"
Children ages 4-9 will enjoy these entertaining stories as they learn about loyalty and trust. Fullscreen.
DVD Features:
Language: English
Subtitles: English
- Bonus: "The Making of Bugtime Adventures"
---
We Also Recommend