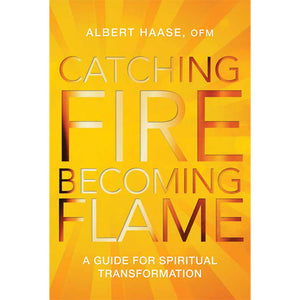 Catching Fire, Becoming Flame
Product Code: BK2672
Ever wonder how some people become enthusiastic and on fire about their relationship with God? In thirty-three short chapters, Albert Haase gives you the tools and kindling to prepare for the spark of God in your life — and then shows you how to fan it into flame until you are set ablaze. This book glows with time-tested wisdom as an experienced spiritual director shares the secrets of the saints. Feel cold? Or maybe just smoldering? With supplemental reading suggestions and reflection questions, this eminently practical book functions like a personal, spiritual retreat.
"Fr. Albert embodies the message of this book. He is alive in the Spirit and engages others with the desire to fan into flame for God. This book and DVD are a must for an enriching parish faith sharing group or adult formation program."
—Catherine S. Sims, MDiv, Pastoral Associate, Director of Adult Faith Formation, St. Joseph Parish, Libertyville IL
"I have attended many retreats and presentations on the spiritual life. Fr Albert's stand out because of his unique ability to make God so close and approachable."
—Deacon Mark Cleary, Epiphany Church, Normal, IL
"Fr. Albert Haase invites us to get serious about the spiritual journey. His humor and use of stories guide those who are willing to catch fire and become flame."
—Sr. Monica Laws, OSF, PhD, VP Mission Integration, Hospital Sisters Health System
"This is Christian spirituality at its finest: bold, vibrant, and down-to-earth. After reading this book and watching the DVD series, you'll understand why Fr. Albert is invited all over North America to share his Franciscan wit and spiritual wisdom."
—Rev. Thomas Fowler, Pastor of St. Mary's Church, Miramichi, New Brunswick, Canada
"Fr. Albert has the unique ability to grab our attention and not let go. He's an amazing storyteller and preacher who will help you discover the embers of the spiritual life that are smoldering deep within, just waiting to be set ablaze by God."
—Don Schneider, Director of Evangelization & Catechesis, Archdiocese of Denver
222 pages. Paperback.
---
We Also Recommend