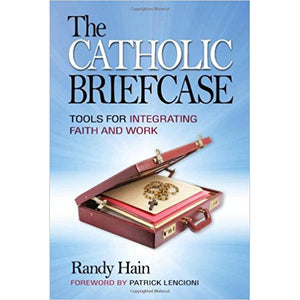 Catholic Briefcase: Tools for Integrating Faith and Work
Product Code: BK2539
By: Randy Hain
The Catholic Briefcase helps Catholics integrate their faith with their jobs through practical tips, relevant examples, and the inspirational stories of others who have successfully learned how to bring their Catholic identity with them to work.
This book provides tips and ideas for finding time for prayer and reflection throughout the day and explores ways to make business decisions through the filter of Catholic teaching. Being a "light for Christ" is ultimately the best way to share your faith with others as they will be drawn to you by your good example and joy.
The Catholic Briefcase helps the reader evaluate where they have been in their business life and where being a "light for Christ" can take them. The practical nature of the content gives the reader a roadmap to a deeper faith in an area (the workplace) they have likely ignored in the past.
160 pages. Paperback.
---
We Also Recommend