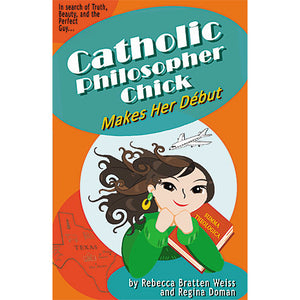 Catholic Philosopher Chick Makes Her Debut
Product Code: BK3107
Smart Chick Lit!
"To transform the chick-lit getting-hitched plot into a leaving-behind-childish-things-and-growing-in-practical-wisdom plot, while still remaining deliciously snarky, is no small task, and the authors mostly achieve it." - First Things blog review
"It deserves a large following. I think men should read it as part of Marriage Prep." - David Athey, author of Christopher.
On a quest for the True, the Good, and the Beautiful--and (hopefully) the Perfect Guy...
Traveling to Texas to study philosophy, Catelyn Frank encounters a plentitude of dilemmas, including the roommate from hell, a classful of seven chauvinistic men, and a bewildering feeling that the Perfect Guy is close at hand...
But with her trusty Summa, the prayers of the Angelic Doctor, and her eclectic friends, Cate is sure she can win her classmates' respect--even when they try to use her beloved Aquinas against her!
First Day of Class…
"Amazing," Michael said. He turned to his friends and smirked. "The chick does philosophy. But she doesn't know the rules. Should we tell her?"
"Dr. Hastings doesn't like us to drink in class," Che said.
"Well, so? Who would be stupid enough to drink in class?" I said, not thinking.
Michael laughed loudly. "She thinks you mean drink as in imbibe, tipple, partake of alcoholic beverages."
I blushed. Now they would all think I was a lush…awesome.
Che said, "All in good time!" rather knowingly. "For now though—if he sees you drinking soda or whatever in class, he'll make you pour it out. Later on you can start bringing in coffee. By the end of the semester you can crack a keg in the middle of the room, and he won't care. But first you have to prove yourself."
I wondered how many times I was going to have to prove myself before this class even started. "Okay," I said, and tipped up my iced latte and downed its contents. I strode over to a waste basket to dispose of the empty cup—and as I turned to go back to my seat I bumped into someone entering the classroom. Another student. Another man.
It was him. The Perfect Guy.
---
We Also Recommend