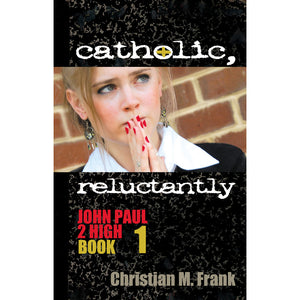 Catholic, Reluctantly: John Paul 2 High, Book 1
Product Code: BK1748
By: Christian M. Frank
No one wants to be at John Paul 2 High.
George would rather be wrestling at a big high school.
Liz would rather be anywhere else, period.
Brian was homeschooled.
J.P. just wants to have fun.
James seems to hate everyone.
Only Celia seems to like the little Catholic high school.
But when a shooting at the public high school causes beautiful Allie Weaver to join John Paul 2 High the pranks, personality conflicts, and problems with the nearby public high school seem to take on a life of their own...and the sinister shooter is still out there.
Age 14 - Up. 218 pages. Paperback.
---
We Also Recommend