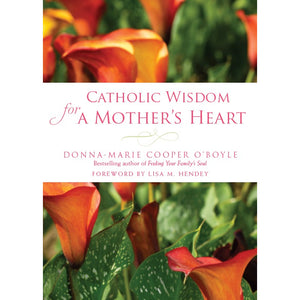 Catholic Wisdom for a Mother's Heart
Product Code: BK3733
Catholic Wisdom for a Mother's Heart is a creative and practical guide for a wide range of domestic church situations. Catholic women can live out their familial vocation with seasoned, simple suggestions for answering Christ's universal call to holiness. Lovely poems conclude each chapter on a note of warmth that will lift hearts beyond the kitchen and up the path toward heaven.
This resource is for Catholic mothers (and grandmothers who often fill the motherly role) who are in the trenches raising their children through thick and thin amid the bombardment of the culture. They need and crave the guidance, encouragement, and affirmation that this welcoming book will offer.
"Truly a work of love that will lift up mothers in their vocations and encourage them." 
—Jean M. Heimann, Catholicfire blogspot
"Genius . . . moves beyond the warm fuzzies of motherhood and addresses it as 'a tapestry of joy and suffering woven together as one beautiful work of art.' Written in the familiar tone of one girlfriend talking to another, this book presents and converses on the myriad of seasons and components that make up a mother's life." 
—Maria de Lourdes Ruiz Scaperlanda, mother of four, award-winning author
"[This] is the book I wish I'd had when my own sons were toddlers. I spent too many years stressing out over things that don't really matter and missed a lot of opportunities along the way. Donna-Marie has done the difficult work of meticulously compiling a treasure trove of resources to guide and instruct us in the sublime responsibilities that accompany our role as mothers." 
—Lisa Hendey, founder of CatholicMom.com
 Paperback.
---
We Also Recommend