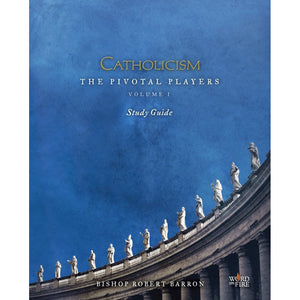 Catholicism: The Pivotal Players Study Guide
Product Code: BK4095
Join Bishop Barron on the journey to unlock the truth behind the most influential people of the Catholic Church.
The Study Guide for the CATHOLICISM: The Pivotal Players film series is the best way to immerse yourself fully into these holy men and women. It contains detailed commentary on the film, as well as "Questions for Understanding" based on the presentation, Scripture, and the Catechism of the Catholic Church.  Also included are "Questions for Reflection" to help connect the material to your own life and experience.and the suggested answers to the questions.
Whether you use it for personal formation or host a complete Study Program for your parish or group, you'll go deeper with top experts from around the world, including:
Fr. Raniero Cantalamessa, Franciscan priest and preacher to the papal household (St. Francis of Assisi)
Dr. Matthew Levering, renowned Catholic theologian and Thomistic scholar (St. Thomas Aquinas)
Fr. Paul Murray, O.P., Dominican preacher and spiritual master (St. Catherine of Siena)
Fr. Ian Ker, world's leading Newman scholar (Bl. John Henry Newman)
Dale Ahlquist, founding president of the American Chesterton Society (G.K. Chesterton)
Dr. Anthony Esolen, professor of Renaissance English Literature at Providence College (Michelangelo)
The Study Guide commentary was compiled under the direction and approval of Bishop Barron. 
SESSION TITLES: 
1) St. Francis of Assisi - Part 1
2) St. Francis of Assisi - Part 2
3) St. Thomas Aquinas - Part 1
4) St. Thomas Aquinas - Part 2 
5) St. Catherine of Siena - Part 1
6) St. Catherine of Siena - Part 2 
7) Bl. John Henry Newman - Part 1
8) Bl. John Henry Newman - Part 2 
9) G.K. Chesterton - Part 1
10) G.K. Chesterton - Part 2
11) Michelangelo - Part 1
12) Michelangelo - Part 2
---
We Also Recommend