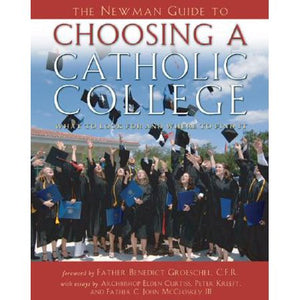 The Newman Guide to Choosing a Catholic College
Product Code: BK3937
When Pope John Paul II issued Ex Corde Ecclesiae in 1990, he called for Catholic colleges and universities to renew their commitments to the doctrinal teachings and intellectual traditions of the Church. The response has been slow, leaving many Catholic families bewildered as to where to find the best of Catholic education. There are in fact a number of fine Catholic institutions of higher education in America-if one knows where, and how, to look for them.
The Newman Guide to Choosing a Catholic College is the first college guide to show students where they can learn and grow in a genuine Catholic environment without the nonsense that has overtaken even some of the most well-known Catholic universities. It includes detailed profiles of more than twenty schools, essential data on each institution, and practical advice from eminent Catholic thinkers, including Fr. Benedict Groeschel, Fr. C. John McCloskey and Peter Kreeft, on how to approach the college decision process. It also tells prospective pupils where to look to find an array of unique and specialized programs.
Based on extensive research and interviews conducted with complete fidelity to the heart of the Church, and with a contribution from Archbishop Curtiss, The Newman Guide to Choosing a Catholic College is an indispensable volume for anyone wishing to pursue a Catholic college education today.
Paperback.
---
We Also Recommend