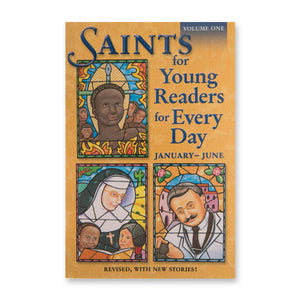 Saints for Young Readers for Every Day Volume 1
Product Code: BK3984
Do you know who your child's friends are? Most likely you do. You're careful about where they go and who they're with. Have you introduced them to the saints as their friends? This two volume set brings a year's worth of saints into the life of a child. They meet kings and queens who were saints. They'll discover the lives of holy priests and sisters, and parents, teenagers, and even other children. Saints who were doctors, farmers, soldiers, nurses, teachers, architects, and scientists, men and women of every ethnicity and every situation in life. Volume I includes saints whose feasts are celebrated January through June. Volume II includes saints honored from July through December. For ages 9 – 13. Should be in every child's hands. Perfect for libraries and classrooms.
Features & Benefits:
Short, interesting biographies engage young readers
Entries include suggestions on how children can apply each saint's story to their own everyday lives
Alphabetical index of saints
Charming black and white illustrations
368 pages. Paperback.
---
We Also Recommend