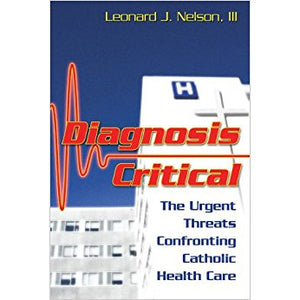 Diagnosis Critical: The Urgent Threats Confronting Catholic Health Care
Product Code: BK1799
The pressure for Catholic medical institutions and healthcare workers is mounting at an alarming rate as individuals struggle to uphold their faith in an industry that is confronting new bioethical dilemmas in a political and cultural environment that is increasingly hostile to traditional Catholic teachings.
The choice to provide or not provide contraception, abortion, controversial fertility procedures, and even euthanasia have now begun to take on legal ramifications, as Catholic facilities seek to maintain their tax-exempt status and their eligibility for federal funding. It is an all too real danger that Catholic medical centers even those in communities where medical care is scarce may be forced to either shut down or provide immoral procedures, while tens of thousands of Catholic doctors, nurses, pharmacists, and other medical professionals could be forced to quit their jobs or violate their religious beliefs.
Now, for the first time, an experienced professional delves into bioethical issues to assist everyone in navigating this minefield of moral questions pertaining to the Catholic mission of ministering to the sick, dying, and unborn. As a specialist in health care law, attorney and law professor Leonard J. Nelson III explores all the relevant topics in clear, easy-to-understand language.
304 pages. Paperback.
---
We Also Recommend