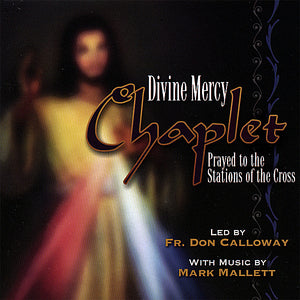 Divine Mercy Chaplet Prayed to the Stations of the Cross
Product Code: CD1055
15 Chaplet decades with totally compelling original music scores set to John Paul II's Stations of the Cross composed by gifted composer Darcy Phillips.
Fr. Don Calloway leading the Chaplet prayers--a young American priest whose dramatic and miraculous conversion story has been likened to that of St. Augustine's.
Beautiful new original versions of the "Eternal Father", "Holy God" and "Our Father" .
5 new songs written and sung by Mark on the themes of mercy and healing.
---
We Also Recommend