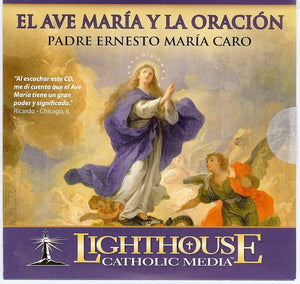 El Ave Maria Y La Oracion
Product Code: CD1173
El padre Ernesto María Caro nos ayuda a comprender en profunidad lo que significa rezar el Ave María. Analiza las palabras de la Ave Maria frase por frase y destaca también la importancia de la oración en el Rosario. El Padre Ernesto espera que estas reflexiones nos ayudarán a regocijarse en la oportunidad que Dios nos ha dado a rezar esta oración.
English Translation: The Hail Mary Prayer
Fr. Ernesto Maria Caro helps us to deeply understand what it means to pray the Hail Mary. He analyzes the words of the Hail Mary phrase by phrase and also emphasizes the importance of the prayer in the rosary. Fr. Caro hopes these reflections will help us to rejoice in the opportunity God has given us to pray this prayer.
---
We Also Recommend