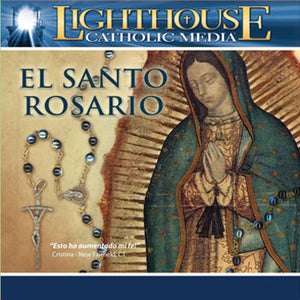 El Santo Rosario
Product Code: CD1170
El Santo Rosario es una oración católica muy recomendada para invocar la intercesión de la Bendita Virgen María. Enraizado en la Sagrada Escritura y a veces llamado "el Evangelio en miniatura," su sencillez lo hace ideal para la meditación privada, la oración comunitaria y las devociones familiares. En esta presentación, la música católica tradicional sirve de fondo para el rezo del Santo Rosario, creando un ambiente que inspira a cualquiera a rezar fácilmente.
English Translation: The Holy Rosary
The Holy Rosary is a Catholic prayer highly recommended to invoke the intercession of the Blessed Virgin Mary. Rooted in Scripture, sometimes called "the Gospel in miniature", its simplicity makes it ideal for private meditation, community prayer, and for family devotions. In this presentation, the
traditional Catholic music, serves as a backdrop for the recitation of the Rosary, creating an inspiring
environment in which anyone can easily pray.
---
We Also Recommend