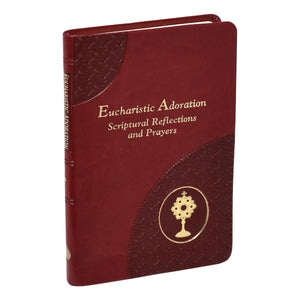 Eucharistic Adoration: Scriptural Reflections And Prayers
Product Code: BK4553
The Bishop's deep spirituality, faith, knowledge, and love of the Eucharist will often leave you breathless. Meditate before, after, and during Adoration with a fervent desire to become a living host of Jesus, the perfect Host for all.
It will help to prepare you to pray before the Blessed Sacrament as you have never prayed before.
Before or during your Adoration time, read one or more of the 21 meditations based on Scripture and packed with prayers and quotes from Saints, Popes, theologians, and classical authors, which attest to the profound mystery and power of the Eucharist .
Keep this treasury close at hand to immerse yourself in the blessings and graces of Adoration that can overcome your worst fears and fulfill your deepest desires.
When time permits, follow your meditation with several of the Additional Prayers and Litanies at the end of the book or use them independently to increase your love and devotion to the Blessed Sacrament.
176 pages. Dura-lux cover.
---
We Also Recommend