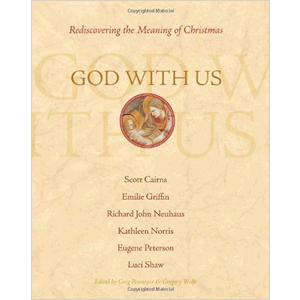 God With Us: Rediscovering the Meaning of Christmas
Product Code: BK1352
By: Greg Pennoyer and Gregory Wolfe
Christmas is the season most difficult to grasp and understand in all its spiritual richness. The sentimentality and commercialism that dominate the season tend to obscure the profound mystery at its heart: the Incarnation. God With Us provides the perfect way to slow down and reconnect with the liturgical and sacramental traditions that illuminate the meaning of the Incarnation and bring it down to earth.

Featuring daily meditations for the complete seasons of Advent, Christmas, and Epiphany, contributors Scott Cairns, Emilie Griffin, Richard John Neuhaus, Kathleen Norris, Eugene Peterson, and Luci Shaw offer a tapestry of reflection, Scripture, prayer and history. These profound words are enhanced by classic and contemporary art masterpieces carefully selected by the editors. God With Us will make anyone's journey to the stable in Bethlehem and the child in the manger utterly unforgettable.
192 pages. Hardcover.
---
We Also Recommend