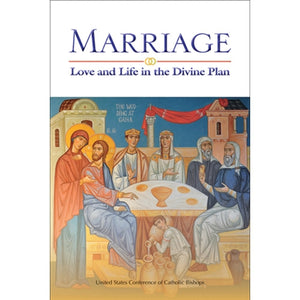 Marriage: Love and Life in the Divine Plan
Product Code: BK2107
Since the beginning of the world, marriage and blessing have been inseparable. The blessing of marriage survived unharmed from our break with you through original sin. Jesus not only restored, but elevated the blessing of marriage to a sacrament.
As a sign of Christ's living presence in the world, marriage is special blessing to our communities. This statement recaptures and further explores the blessing of marriage as a public commitment between a man and woman. It emphasizes the unitive and procreative aspects of marriage, the relationship between the two aspects, and the sacramental nature of marriage. There is also a deep and thorough discussion of the contemporary challenges to marriage in today's world and how the Church addresses those challenges.
58 pages. Paperback.
---
We Also Recommend