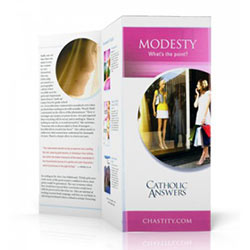 Modesty: What's the Point?
Product Code: BK3292
In the Catholic Answers Chastity Tract, Modesty: What's The Point? you will learn through citations of Scripture and quotes from throughout Church history, that modesty is the proper attitude of a woman who knows the value of her mystery.

Modern culture tells women, "If your body is so great, show yourself!", but women need to choose how and to whom they will veil themselves. We must never forget that the Bible says that God has glory in what he conceals. This tract will help women realize that a followers of Christ, they have a responsibility to dress in a chaste way, thus helping men to maintain the purity of their minds and hearts.
---
We Also Recommend