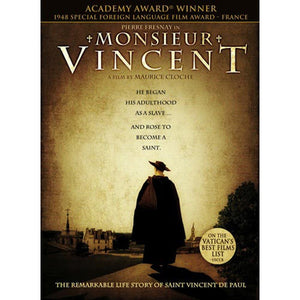 Monsieur Vincent: The Remarkable Life Story of St. Vincent de Paul
Product Code: DV1101
An Academy Award winner for Best Foreign Language Film, Monsieur Vincent chronicles the remarkable journey of St. Vincent De Paul (Pierre Fresnay) who rose from slavery to become a trusted advisor to queens and princes. Director Maurice Cloche's powerful and dramatic biopic reveals how St. Vincent De Paul's unwavering commitment to the poor made him one of the greatest humanitarians in history. On the Vatican's top 100 films list! Movie is shown in Black & White.
This DVD has the following language tracks available: In French with English or Spanish subtitles.
This movie is not rated.
This is a Region 1 DVD (playable ONLY in Bermuda, Canada, the Cayman Islands, United States and U.S. territories) 114 minutes.
---
We Also Recommend