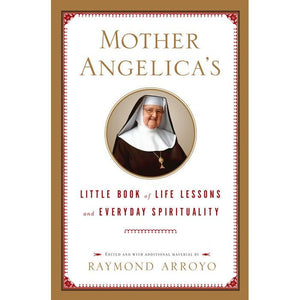 Mother Angelica's Little Book of Life Lessons and Everyday Spirituality
Product Code: BK1231
Are you unsure of your purpose in life? Stuck in the past and worried about the future? Hamstrung by fear, failure, or trials? Mother is here to help.
For more than twenty-five years, Mother Angelica has dispensed spiritual wisdom and practical advice to millions around the globe through her lively broadcasts on EWTN. Now she shares with you her personal life lessons and hilarious counsel as never before. Raymond Arroyo, author of the bestselling biography of Mother Angelica, has assembled an inspiring collection of her powerful insights, comic musings, and no-nonsense guidance for everyday living. Culled from never-before-seen interviews, private conversations, and recorded lessons not heard in over thirty years, to which Arroyo had exclusive access, these selections capture Mother Angelica's spunky spirit and profound wisdom at their zenith.
In Mother Angelica's Little Book of Life Lessons and Everyday Spirituality, the beloved nun is your personal mentor. Together you'll discover:
How to find God's Will in your life
How to pursue inspirations fearlessly
How to make sense of pain and suffering
How to spiritually overcome personal faults and trials
Created in cooperation with Our Lady of the Angels Monastery, this devotional treasury is accompanied by original prayers from Mother Angelica's private collection. Within are the meditations, personal beliefs, and pithy life lessons that transformed a disabled child of divorce into Mother Angelica, founder and CEO of the world's largest religious media empire. Packed with real-world hope, this little book is sure to transform your life in a big way.
A portion of the proceeds of this book goes to support the work of Our Lady of the Angels Monastery
240 pages. Hardcover.
---
We Also Recommend