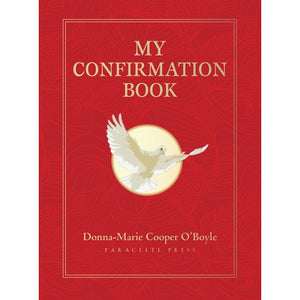 My Confirmation Book
Product Code: BK3438
Part keepsake, part teaching book, this small volume is filled with inspiration, encouragement, and reflections to ponder for 4th graders and up. Through simple text, it explains the privileges and responsibilities imparted through the sacrament of Confirmation. Compelling stories about saints and children their own age will help kids become more familiar with the Gifts of the Holy Spirit and learn how the gifts can be active in their own lives. The apostolic mission of a confirmed Catholic is emphasized and readers are reminded that the sacrament of Confirmation is exciting—the same Holy Spirit who appeared to the apostles and the Blessed Mother at Pentecost is the one who will come to them when they are confirmed.
"Too often we whisk our youth through the Sacrament without a clear understanding of what's happening. That's tragic, because a grace misunderstood is easily unappreciated, and a grace unappreciated is easily lost. My Confirmation Book empowers young people to receive the Holy Spirit in a way that's active, personal, willing, and enduring. Highly recommended." 
- Mike Aquilina, co-host of The Lamb's Supper on EWTN, and Executive Vice-President of the St. Paul Center for Biblical Theology
"A wonderful tool for parents, religious education leaders, and all who are concerned about raising up strong young Catholics – Catholics who will be able to boldly and joyfully proclaim their faith and engage a culture so in need of God."                                                                                                   
-Teresa Tomeo, Catholic syndicated talk show host, Ave Maria Radio
" Another winner from Donna-Marie Cooper O'Boyle! Clear, concise and inspiring - everything Confirmation candidates could want in a book that will help them prepare for one of the most important moments in their lives! A great resource for parents and catechists, too. Kudos on a job well done!" 
- Marge Fenelon Author of Strengthening Your Family: A Catholic Approach to Holiness at Home
"Donna-Marie Cooper O'Boyle has created a resource of great simplicity and beauty for young confirmands. Tenderly and wisely written, My Confirmation Book explains and explores the seven gifts of the Holy Spirit. Concise, but powerful, the text includes illuminating stories and discussion questions, and a superb collection of brief quotes from saints and sacred scripture. I am eager to buy an armload of copies, not only for all the young people I know who are preparing for the Sacrament of Confirmation, but for those who have already received it. In fact, I found so much encouragement and clarity in the pages of this small book of reflections; I'm going to give them to my adult friends, as well." 
-Lisa Mladinich, author "Be an Amazing Catechist: Inspire the Faith of Children," OSV
70 pages. Hardcover.
---
We Also Recommend