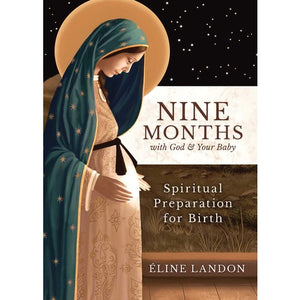 Nine Months with God & Your Baby
Product Code: BK3854
Amidst the doctor visits, the showers, and the physical and emotional changes that come with pregnancy, it s easy to forget to prepare yourself spiritually to welcome your newborn into the world.
That's why Éline Landon crafted for you these maternal reflections and gathered these gentle Scripture passages to help you prayerfully live each month of your pregnancy according to God s loving plan.
As the birth of your child approaches, turn to these loving pages to refresh your soul, strengthen your faith, and gain inspiration from the example set by the many expectant couples in Scripture:
From the Old Testament, Hannah will show you and your spouse how to wait patiently for the conception of the child you so desire.
Tobias and Sarah will help you order your priorities in a way that produces a strong, stable family.
Our Lady will teach you how to bear the uncertainties of pregnancy and prepare to raise a family without fear.
The Visitation of Mary to Elizabeth will help you experience Christ's presence through the child you carry in your own womb. With the gifts of the Holy Spirit revealed here, you will learn to overcome discouragement.
The Infant Jesus in the manger will teach you how to prepare interiorly for childbirth.
And even Mary Magdalene will come to your aid, revealing to you certain crucial duties you have as a parent, in addition to caring for your baby.
Whether you are hoping and praying for the conception of a child or are already expecting, this beautiful book will open your eyes and your heart to the grandeur of God's plan for your family and to the unfathomable love with which He cares for those who trust in Him.
Paperback.

---
We Also Recommend