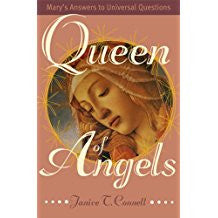 Queen of Angels
Product Code: BK2185
In times of need, people turn to spirituality and religion for comfort--and in our tumultuous world, Mother Mary is one of the most popular objects of devotion, beloved by Catholics, many feminists, and New Age disciples everywhere. Marian conferences held throughout the year attract thousands of Mary's devoted followers, and her popularity will only increase as the millennium approaches--Pope John Paul II has officially declared 2000 the Year of Mary. 

In Queen of Angels, Janice T. Connell, the foremost authority on the subject of Marian apparitions, presents a collection of Mary's messages of hope, love, and encouragement. Communicated during Mary's frequent visits to her faithful believers, these messages address common human challenges and are accompanied by prayers and meditations to assist us on our spiritual journeys. Graceful, timely, and compassionate, Mary's words will help readers overcome their difficulties and open our hearts to the remarkable power of God's love.
304 pages. Paperback.
---
We Also Recommend