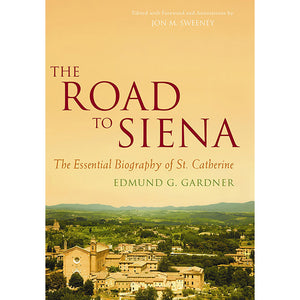 The Road to Siena: The Essential Biography of St. Catherine
Product Code: BK1956
Catherine of Siena's influence was felt throughout the kingdoms of Europe. She enjoyed the confidence of popes, royalty, and most of all, the common people of Italy. A complicated woman, she was able to speak bluntly to a queen: "Instead of a woman, you have become the servant and slave of nothingness, making yourself the subject of lies and of the demon who is their father"; and also encourage the wife of a simple tailor: "Clothe yourself in the royal virtues."
Her story is told in this landmark biography, first published a century ago and praised by Evelyn Underhill as the best modern biography of a saint ever written. Long out of print, this new edition has been slightly abridged and generously supplemented with the reflections of other biographers, historians, and artists--who shed fresh light on what we know about an amazing woman.
"Sweeney achieves a fine balance between excellent scholarship and sweet accessibility for every average reader."
--Walter Wangerin, Jr., author of St. Julian and The Book of God
"Caterina Benincasa, whom we now call Saint Catherine of Siena, was born on March 25, 1347--the Feast of the Annunciation, the first day of the new year as it was reckoned in those days in Italy. It had been 120 years since Saint Francis had died at Assisi in the arms of Lady Poverty, his mystical bride, and a quarter of a century since Dante had passed away in exile at Ravenna. These two men are Catherine's elder brothers in the spirit. The seraphic father of Assisi, standard-bearer of the Crucified, as the voice in the high vision on Mount Verna had hailed him, is her predecessor in the mystical life. And Catherine is the literary successor of the poet of the Divine Comedy in the history of religious thought in Italy...." (the beginning of Chapter 1)
205 pages. Hardcover.
---
We Also Recommend