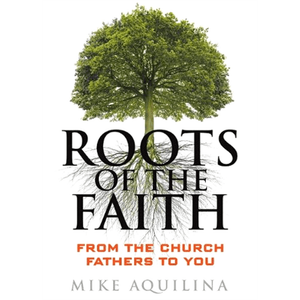 Roots of the Faith
Product Code: BK2814
Roots of the Faith – From the Church Fathers to You by Mike Aquilina
This highly readable introduction to the roots of many Catholic beliefs and practices provides a sense of connection to our brothers and sisters who have gone before us and who helped shape the faith. Mike Aquilina makes it clear that as far as the essentials are concerned, a time-travel trip back to the beginning of the Church would reveal a Church familiar to Catholics today. Just as an acorn grows into a tree and yet remains the same plant, so the Catholic Church is a living organism that has grown from the faith of the earliest Christians into the Body of Christ we know today.
Mike Aquilina is a noted Catholic Scripture scholar, apologist and author or editor of more than a dozen books on Catholic history, doctrine, and devotion. He is vice president of the St. Paul Center for Biblical Theology based in Steubenville, Ohio. Mike is co-host, with Scott Hahn, of "The Lamb's Supper" (2001), "Hail, Holy Queen" (2002), "First Comes Love" (2003), "Lord, Have Mercy" (2004), and "Swear to God" (2005) — all airing on EWTN. He also appears regularly as a panelist on "The Weekly Roman Observer," broadcast by Catholic Family Network.
Mike's career in publishing spans two decades, and hundreds of his articles have appeared in many periodicals and journals in the United States and abroad. He also runs the popular website Fathers of the Church dot com.
---
We Also Recommend