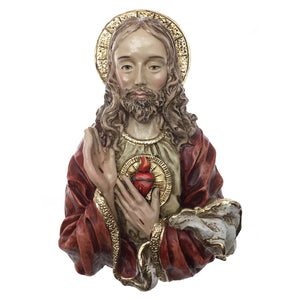 Sacred Heart of Jesus Plaque
Product Code: PA1171
This Sacred Heart of Jesus wall plaque measures approximately 7 inches tall and 4-1/2 inches wide and is made from plaster. It has a hook on the back so it may be hung on the wall.
This plaque was handcrafted and hand-painted by widows who have lost their husbands due to violence in Columbia. Details in the plaque may vary from the picture because every piece is handmade. 
The image of the Sacred Heart of Jesus was seen by Saint Margaret Mary Alacoque in her visions. Jesus told her 12 promises made to those who honor the Sacred Heart:
1. I will give them all the graces necessary for their state in life.
2. I will establish peace in their families.
3. I will comfort them in their trials.
4. I will be their secure refuge during life, and, above all, in death.
5. I will shed abundant blessings on all their undertakings.
6. Sinners will find in My Heart an infinite ocean of mercy.
7. Lukewarm souls will become fervent.
8. Fervent souls will rapidly grow in holiness and perfection.
9. I will bless every place where an image of My Heart shall be exposed and honored.
10. I will give to priests the gift of touching the most hardened hearts.
11. The names of those who promote this devotion will be written in My Heart, never to be blotted out.
12. I promise thee, in the excessive mercy of My Heart, that My all-powerful love will grant to all those who receive Holy Communion on the First Friday of nine consecutive months, the grace of final penitence; they shall not die in My disgrace nor without receiving their Sacraments; My Divine Heart shall be their safe refuge in this last moment.
---
We Also Recommend