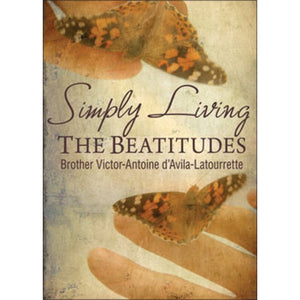 Simply Living the Beatitudes
Product Code: BK2200
Brother Victor-Antoine d'Avila-Latourrette
"Rejoice and be glad, for your reward is great in heaven, for in the same way they persecuted the prophets who were before you." Matthew 5:12
From the peaceful setting of his Benedictine monastery in upper New York state, Brother Victor-Antoine d'Avila-Latourrette shares the secrets of a simple monastic spirituality and life through the tradition of the Beatitudes. Complete with prayers, reflections, and practical advice, this book will become your companion for simply living these words from Jesus in Matthew's Gospel.
The Beatitudes have always challenged Christians through the centuries. In today's fast paced world we long to slow down and learn what it means to:
-- be poor in spirit,
-- take time for our faith to rise from our mourning,
-- become the meek servant of God,
-- choose righteousness
-- act with mercy
-- find purity within our own hearts
-- love one another in peace as the children of God
-- persevere in justice and love despite the world's opinion
-- risk living as Jesus lived in the face of false accusations
Brother Victor offers thoughtful guidance to help us appreciate the gift of the Beatitudes as a simple guide for life. Explore with Brother Victor how to BE as Christ called us to live.
144 pages. Hardcover.
---
We Also Recommend