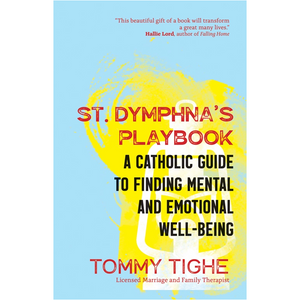 St. Dymphna's Playbook
Product Code: BK4376
Are you or someone you love struggling with depression, anxiety, grief, or other mental health concerns?
Tommy Tighe, a licensed marriage and family therapist, wants to help you take steps toward reaching and maintaining mental and emotional well-being, not only through self-care, healthy coping mechanisms, and professional intervention but also through prayer, scripture, and developing a relationship with the saints. St. Dymphna's Playbook combines a therapeutic approach with the deep wells of Catholic faith and spiritual practice, exploring paths toward hope, healing, and wellness.
Born out of Tighe's podcast of the same name, St. Dymphna's Playbook provides a practical, ready-made game plan for moving toward wellness. It offers concrete explanations of a wide scope of mental health concerns and symptoms related to depression, anxiety, trauma, relationships, and grief, as well as the common emotions and situations that allow them to grow—including fear, social anxiety, isolation, loss, and unhealthy relationships. Tighe shares best practices for understanding and beginning to address each concern and offers a uniquely Catholic understanding, diving into relevant scriptures and introducing us to a Catholic saint or holy person who lived with the same issue—including St. Dymphna, patron of those with mental disorders.
Whatever your concern or struggle, you are not alone. The witness of scripture and the saints reminds us of the community we already have as we begin working toward mental well-being.
---
We Also Recommend