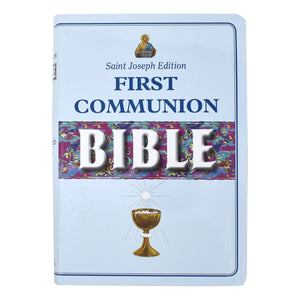 St. Joseph NCB First Communion Edition - Boys
Product Code: BK4563
An ideal addition to the line of St. Joseph New Catholic Bible (NCB) offerings—and the perfect First Communion gift—the Personal Size Edition provides this fresh, faithful, and reader-friendly Bible translation in a convenient size. An important quality of its extensive and insightful footnotes is their distinctly pastoral tone.
This Personal Size Edition, intended for use by Catholics during daily prayer, as well as in private and group study, has a 5½ x 8⅛ format. It is available in two other sacramental offerings (Confirmation and Marriage) as well as in a wide variety of colors, bindings, and price points.
Enhanced Features
Certificate of First Communion
Section with Essential Prayers and Important Teachings
Rosary and Stations of the Cross in Full Color
Noteworthy Features
Words of Christ in 

Red

Learning about Your Bible Section
30 Self-Explaining Maps in Context
The Bible and Catholic Life
Over 100 Photographs, Illustrations, Charts, and Maps of the Holy Land
Doctrinal Bible Index
Bible Dictionary
Sunday Gospels Listing (3-Year Cycle)
1848 pages. 
Size: 5 1/2 x 8 1/8
---
We Also Recommend