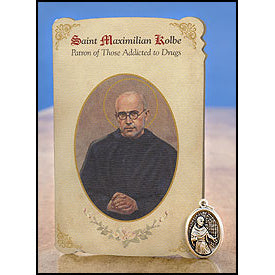 St. Maximilian Kolbe (Addiction to Drugs) Healing Medal Holy Card
Product Code: PC4128
"Ask, and it will be given to you; seek, and you will find; knock, and the door will be opened to you. For everyone who asks, receives, and the one who seeks, finds, and to the one who knocks, the door will be opened." Matthew 7:7-8
Prayer is an essential tool for healing and is an excellent source of comfort, courage and strength for those who are suffering. During times of illness, disease or a life challenge, nothing is more important than to offer prayer and to join with others in assurance of these prayers.
In addition to prayer, the Saints protect us against harm, help strengthen our faith and offer spiritual guidance and healing. They are our models of prayer and their intercession helps present powerful prayers of healing to God on our behalf.
Our Patron Saints of Healing line offers hope and comfort to those who seek healing through the intercession of the Saints. Each holy card and medal set includes a high-quality prayer card that contains novena prayers specific to the affliction, a short biography of the patron saint and an oxidized silver patron saint medal.
Holy Card: Full-Color Cardstock 2 1⁄2" W x 4" H (closed)
Saint Medal: Oxidized Silver 1" H
Includes a full-color holy card with two healing prayers, a saint biography and an oxidized silver patron saint medal.
Saint Maximilian Kolbe was born in 1894 in Poland and at age 12, he received a vision from Mary that changed his life forever. Soon after, he joined a Franciscan seminary and took his final vows in 1914.
Before his ordination as a priest, Maximilian founded the Immaculata Movement devoted to Our Lady. He spread the Movement through missionary work in Japan and India. He fell ill during his travels and returned home to Poland in 1936. After the Nazi invasion in 1939, he was arrested and sent to the concentration camp at Auschwitz.
On July 31, 1941, in retribution for one prisoner's escape, ten men were chosen to die. Maximilian offered himself in place of a young husband and father. He endured two weeks of torture before he was executed with an injection of carbolic acid. He was canonized on October 10, 1982.
Saint Maximilian Kolbe is recognized today as the patron of those addicted to drugs. His feast day is August 14th.
Saint Maximilian Kolbe, Pray for Us.
---
We Also Recommend