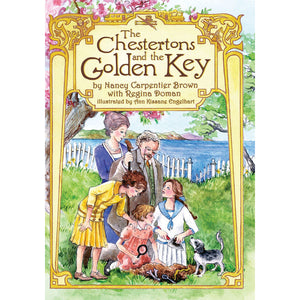 The Chestertons and the Golden Key
Product Code: BK2644
The Chestertons and the Golden Key



Summer holiday turns into an adventure for the three Nicholl sisters when Mr. Gilbert Chesterton and his wife come to town. Eleven-year-old Clare hopes to write a detective story. Eight-year old Cece wants to be a champion roller-skater. And ten-year-old Joan just wants to learn how to play the locked piano in the family living room. As they befriend the Chestertons, skating accidents, surprising friendships, puppet shows, and mystery solving ensue! Based on the real-life friendship of the great British writer and a trio of sisters. Adventures and fun!
130 pp.Illustrated chapter book
Perfect for 8-10 year old readers!
---
We Also Recommend