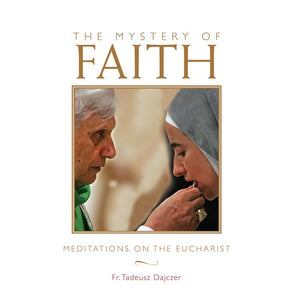 The Mystery of Faith: Meditations on the Eucharist
Product Code: BK2020
Would you like to not just go to Mass, but learn to live the Eucharist?

Now comes a clear and compassionate voice of encouragement, reflection, and inspiration.

"I am really shaken when I begin to realize that in the palm of my hand is the one true God who rules the world, the One upon whom every nerve and tissue depends. Finally I may get to see that He allows me to adore Him in the palm of my hands at least for a moment as He only has me. He only has me. I am everything for Him. I need Him to be everything for me. He comes to me in an unexpectedly riveting way. I try to respond to these unusual words of His love. After all, I have nothing, nobody; truly I have only Him. If I lost Him, I would not be able to live."

First appearing in its original Polish in late 2007, The Mystery of Faith is now available in the US, England, Russia, Lithuania, Germany, and Italy. This book is impacting Catholic spirituality all over the world.
124 pages. Hardcover.
---
We Also Recommend