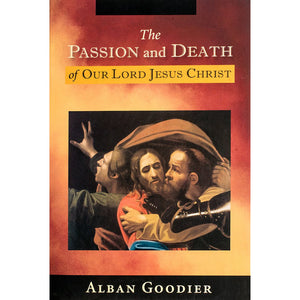 The Passion and Death of Our Lord Jesus Christ
Product Code: BK2501
By Archbishop Alban Goodier, S.J.
Archbishop Alban Goodier, S.J. fills in the many blanks in the historical narratives about the Passion of Jesus Christ with a riveting account based on history, culture and his own deep spiritual insights. He brings to life and unifies the many observations, emotions and subtle and not-so-subtle actions that revolve around the person of God the Son as he faces his most tragic and triumphant moment.
The author's unique approach intersperses Scripture accounts with the commentary of an incisive narrator who sifts and judges from the span of hundreds of years. He draws from the obvious as well as the obscure, and finds supernatural meaning in the most mundane actions that surround the suffering Christ. In the hands of this writer, the Lord's few words, accompanied by the author's commentary, challenge contemporary believers as much as they did those who first followed in the footsteps of Christ and his apostles.
The author was born in 1869 in Lancashire, northern England and educated at the prominent Catholic college, Stonyhurst, which has been the source of many English Catholic politicians, intellectuals and business people. After a degree from the University of London, he was ordained a Jesuit in 1903. He served as archbishop of Bombay from 1919 to 1926 and returned to England to write and serve as a chaplain until his death in 1939. 
352 pages. Paperback.
---
We Also Recommend