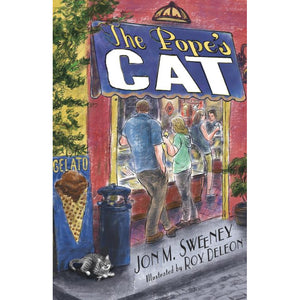 The Pope's Cat
Product Code: BK3722
This is the story of a stray born on the Via della Conciliazione in Rome, how she's adopted by the Pope, and then "rules" the Vatican from museum to floorboard! First in a new series.
No one has a closer view of what's happening in the world's tiniest nation, Vatican City, than Margaret, the Pope's new cat. But she wasn't always Margaret, and she wasn't always the Pope's cat. She started out as a stray on the streets of Rome, and there are those in the Vatican who wish she'd never been allowed inside.
This fun, adorable new character will appeal to all kids! Here is a cat who does what she likes regardless of what others, even someone like the Pope, expects of her!
"The Pope's Cat is a heartwarming tale, which gives the papacy a human touch, along with a taste of life in Rome. Sweeney has done an excellent job in opening up the world of the Vatican to youngsters. I read it to my two children and they both loved it!" 
—Christopher Lamb, Rome correspondent for The Tablet (UK)
"Young readers will surely fall in love with Margaret, the spirit-filled pet at the heart of The Pope's Cat! Accompanied by fanciful illustrations from Roy Deleon, Jon Sweeney's first book for children invites us to peek inside the Vatican and discover a Pope who loves adorable cats just like the rest of us."
—Lisa M. Hendey, founder of CatholicMom.com, author of the Chime Travelers series
  "Margaret brings joy and quiet companionship into the Pope's life in this sweet tale of friendship that left me hungry—not only for gelato and spaghetti alle vongole—but for more stories about this dear pair." 
—Jennifer Grant, award-winning author of Maybe God Is Like That Too
Paperback.
---
We Also Recommend