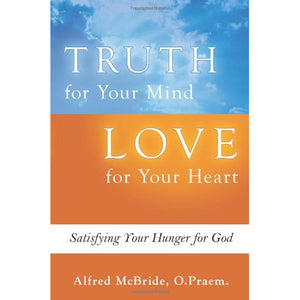 Truth for Your Mind, Love for Your Heart
Product Code: BK2299
"I believe that popular piety is a powerful way to open our minds and hearts to the revealed Word of God in Scripture and the New Testament revelation of Jesus Christ." Alfred McBride, O.Praem.
In this groundbreaking work Father Alfred McBride, for the first time in his long and distinguished career, links doctrine with the devotional life of the ordinary Catholic. McBride is perfectly suited to this task, for he brings an immense amount of background knowledge and experience. He has written about the Catechism of the Catholic Church since its publication in 1992.
Each chapter of the book intertwines a Catholic teaching with the witness of a saint or other exemplary person to show that faith lived daily is a most powerful way to get at the heart of God's Word. Among personalities employed as illustrations are Franz Jagerstatter, Pope John Paul II, C.S. Lewis, and Pope Benedict XVI.
Reflections, prayers, questions, and sidebar meditations reinforce the connections made between the Church's teachings and the reader's spiritual and moral life. You will come away from this book with an informed mind and an uplifted heart for maintaining a strong devotional life.
138 pages. Paperback.
---
We Also Recommend