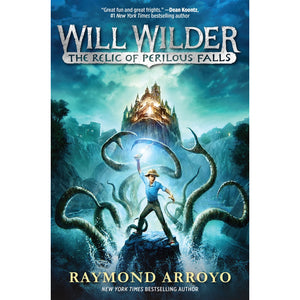 Will Wilder #1: The Relic of Perilous Falls
Product Code: BK3920
Fans of Rick Riordan's Percy Jackson and the Olympians and Peter Lerangis's Seven Wonders series will embrace this first epic adventure in a rollicking new series by a New York Times bestselling author.
Will Wilder is a mischievous, headstrong twelve-year-old with an otherworldly gift—he alone can see the nefarious creatures encroaching on Perilous Falls. For nearly a century, a sacred relic has protected his hometown from the raging waters surrounding it. But when Will "borrows" the relic for his own purposes, he accidentally unleashes an ancient evil.
As boats sink and hideous creatures crawl from the rising waters, Will must set things right before it is too late. With the help of his sweet (if lethal) Great Aunt Lucille, the curator of a museum of powerful artifacts, Will proves that the actions of one twelve-year-old boy can change the world. Age Range: 8 - 12 years. Grade Level: 3 - 7.
Paperback.
---
We Also Recommend