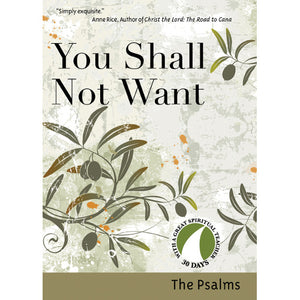 You Shall Not Want
Product Code: BK2378
Each book in the 30 Days with a Great Spiritual Teacher series provides a month of daily readings from one of Christianity's most beloved spiritual guides. For each day there is a brief and accessible morning meditation drawn from the mystic's writings, a simple mantra for use throughout the day, and a night prayer to focus one's thoughts as the day ends. These easy-to-use books are the perfect prayer companion for busy people who want to root their spiritual practice in the solid ground of these great spiritual teachers.
For over three thousand years the Psalms have been a source of comfort and wisdom to people of diverse faiths. Connect with the doubts, dreams and trials of the Psalmists through a month's worth of morning and evening readings. Take time to let the living tradition of the Psalms give voice to the longings of your heart and lead you to a deeper encounter with the God of all generations.
120 pages. Paperback.
---
We Also Recommend